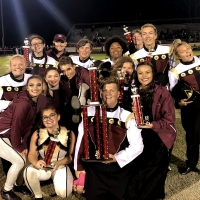 Cavalier Classic 2018
By Scott Emerine | October 20, 2018
Tennessee High Mighty Viking Band Sweeps Class 4A at the Cavalier Classic Band Competition, Wins Best Band of the Day

The Tennessee High School Mighty Viking Band (MVB) announced today that the band brought home numerous trophies from the Cavalier Classic Band Competition in Daleville, Va., by sweeping the class 4A Category.

The MVB competed in class 4A and won first place for color guard, drum major, percussion, music, general effect, marching, music and first in class 4A. In addition to all the first place trophies, MVB also took home the best band of the day award.

"I am pleased the judges appreciated our show at every contest this year," said Tennessee High Band Director David Semones, after his band swept every category for the second straight band competition. "The students and staff have put tremendous time and effort into making the show entertaining for the audience, yet innovative and competitive."

Daleville, Virginia was under a high wind advisory, during the competition. Props, instruments, and even one bands' drum major stand blew over. The strong winds made the competition difficult.

"I must commend the students on an excellent show. We spoke together about fighting through the conditions to produce an intense and passionate performance. They succeeded in every way and I could not be any prouder," said Semones.

Back