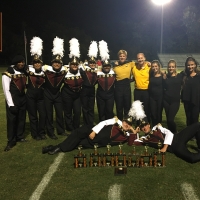 Chilhowie Apple Festival Band Competition
By Scott Emerine | September 23, 2017
Mighty Viking Band Sweeps Class AAAA Section 2
Competition at Chilhowie Apple Festival Band Competition

The Tennessee High School Mighty Viking Band (MVB) announced today that the band swept the competition with first place finishes in every category for the Class AAAA Section 2 Bands.

The MVB Band won 1st place in the drum major, auxiliary and color Guard, percussion, general effect, marching and music categories. The MVB also received a 1 rating, and 1 class placement. In addition to the class awards, The MVB Drum Major Max Fleming won 1st place overall and the band received the second highest rating of any band that day.

"I am extremely proud of the hard work and efforts that the band students have put in all summer long to prepare for this first competition," said Band Director David Semones. "This sets the tone for the rest of the competitions for the season. I want to thank the school district, band board, and numerous sponsors for their support. Our students really appreciate all their encouragement and assistance."

The MVB will next compete at the Land of the Skies band competition in Enka, North Carolina next Saturday, September 30th.

"I am so proud of the band students on their victory tonight," added Tennessee High School Principal Dr. Kim Kirk.

The Tennessee MVB will host their own event Music in the Castle (MITC) on October 7th and encourages the community to come out and support the band.

More information about MITC can be found at http://www.themightyvikingband.com/competitions/music-in-the-castle/index.html.

Back