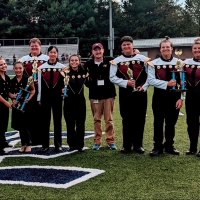 Land Of the Skies 2019
By Scott Emerine | October 1, 2019
The Tennessee High School Mighty Viking Band (MVB) announced today that the band brought home numerous trophies from the Land of the Skies Band Competition in Enka, N.C. in class 2AA Category. The highly competitive band competition featured more than 30 bands including two exhibition only bands.

The MVB competed in class 2AA and won 3rd place for drum major, 2nd place percussion, and second in class. The band also received an overall superior rating.

"There were a lot of great bands in this competition and in our division," said Band Director David Semones. "Each year there is a highly competitive field in North Carolina. I am extremely proud of these students for their hard work."

The MVB will host the Music in the Castle next week on October 5th, in the Stone Castle in Bristol, Tenn., Doors open at 9:30 am on Saturday. Music in the Castle will feature 29 bands. They will also compete in at least two more competitions this year.


Back