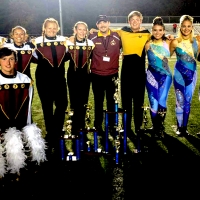 Land of the Skies Competition 2017
September 30, 2017
Mighty Viking Band Continues Winning Streak
Wins Numerous Awards at Land of the Skies Band Competition

The Tennessee High School Mighty Viking Band (MVB) announced today that the band brought home numerous trophies from the Land of the Skies Band Competition in Enka, N.C. The highly competitive band competition featured 31 bands including two exhibition only bands.

The MVB Band won 1st place in the drum major, auxiliary and color Guard, visual performance and music categories. The MVB also received a 1st in class placement. The percussion won third place. The MVB Drum Major Max Fleming won 3rd place overall and the band received the third highest rating of any band that day. The color guard won the highest rating of the day in their category.

"To compete at this level with so many high caliber bands, I am extremely proud of our students," said Band Director David Semones. "We have had two great competitions in a row and our young and talented band continues to refine their skills and technique."

The MVB will host the Music in the Castle next week on October 7th, in the Stone Castle in Bristol, Tenn., and will compete in their next band competition in Maryville, Tenn. In October 21.

More information about MITC can be found at http://www.themightyvikingband.com/competitions/music-in-the-castle/index.html.


Back