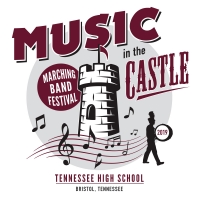 Music In the Castle 2019
By Scott Emerine | September 24, 2019
The Tennessee High School Mighty Viking Band (MVB) announced today that 29 bands from numerous states, including several area high school marching bands, will participate in the 68thannual Music in the Castle (MITC) event on Saturday, October 5.

This year's competition will feature bands like Knoxville's Bearden High School, Sullivan North, Sullivan East, Sullivan Central, Sullivan South, Daniel Boone, Morristown West, and many other crowd-pleasers. In addition to the competition bands, Vance Middle School, Tennessee High School, and East Tennessee State University will also perform.

"Last year we had a great crowd for Music in the Castle," said Tennessee High School Director of Bands David Semones. "MITC is an awesome family event that lets everyone hear wonderful bands. This event is vital to help us with instrument repairs, music, and travel expenses for the band program."

The cost to attend MITC is only $8 for adults and $5 for students. Children 5 and under are free. Programs will be $6.00. MITC will also have a ticket and program combination for only $12." Family members will be able to purchase messages or band-o-grams to show support for students for $2 during the band festival.

"I want to thank all our great sponsors that make this event possible," said MITC Director and Band Board Vice President Scott Emerine. "We have a new show shirt with all the bands listed on the back of the shirts and we are going to have numerous vendors on-site that day. We will have multiple colored shirts in both long and short sleeves, and hoodies. Concession stands are open all day. Chick-fil-A, Arby's, Stop Drop N Pop, Pizza Plus, Brain Freeze Italian Ice, and other concessions are on-site during the day."

Gates open at 9:30 am. Vance Middle School will perform the National Anthem before the competition begins at approximately 10:45. Because of the number of bands competing this year, MITC organizers will also have two award ceremonies. This will allow bands traveling from several hours away to be able to plan their time more efficiently and not have to travel back as late.

"Our goal is to raise more than $20,000 this year," said Emerine. "We have a lot of businesses like The Pinnacle, Contura Energy, Ballad Health, United Southeast Federal Credit Union, Eastman Credit Union, and the award-winning Bristol Hotel sponsor this wonderful, storied band festival. I want to encourage everyone to come out, hear great performances, and help support our band. It's a fun, affordable family event."

A full list of bands and performance times can be found at http://www.themightyvikingband.com/competitions/music-in-the-castle/index.html.

Back