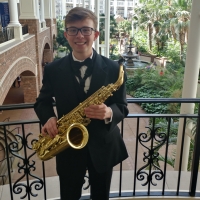 Saxophonist Excels Musically and Academically!
April 17, 2017
Tennessee High School band student, Jacob L., has had a fantastic senior year! As a saxophonist, he auditioned for All-State East in January at Bearden High School. After a rigorous set of auditions, Jacob placed 2nd chair Alto Saxophone in all of east Tennessee. Because of his high placement, Jacob qualified for All-State Band. On Wednesday, April 5, he traveled to Nashville to audition for All-State Band. Here, he placed fifth in the entire state of Tennessee. After auditioning, he spent Thursday and Friday rehearsing with other instrumentalists from across Tennessee under the direction of renowned conductor, Dr. Paula Crider (University of Texas, retired). On Saturday, April 8, Jacob performed with the All-State Band and represented the community of Bristol, and Tennessee High School, extremely well!
In addition to his state accomplishments, Jacob also participated in the ETSU Honor Band and the Virginia Tech Honor Band this year. He was selected based on nomination from his band director. Both events combined hosted around 600 band members across 6 states. After auditioning for college professors, Jacob placed first at both events. The Virginia Tech Honor Band was held January 20-22, while the ETSU Honor Band was held January 27-28.
Due to his musical accomplishments, Jacob has been offered a $3,000 per year music scholarship and an additional $1,000 marching band scholarship from East Tennessee State University. He was also accepted into the Honors College at ETSU because of his GPA and ACT score. As part of his acceptance into the honors program, Jacob will receive a yearly full-tuition APS Scholarship. Congratulations, Jacob, on these accomplishments; and thank you for representing both the Mighty Viking Band and Tennessee High School in such wonderful fashion!

Back